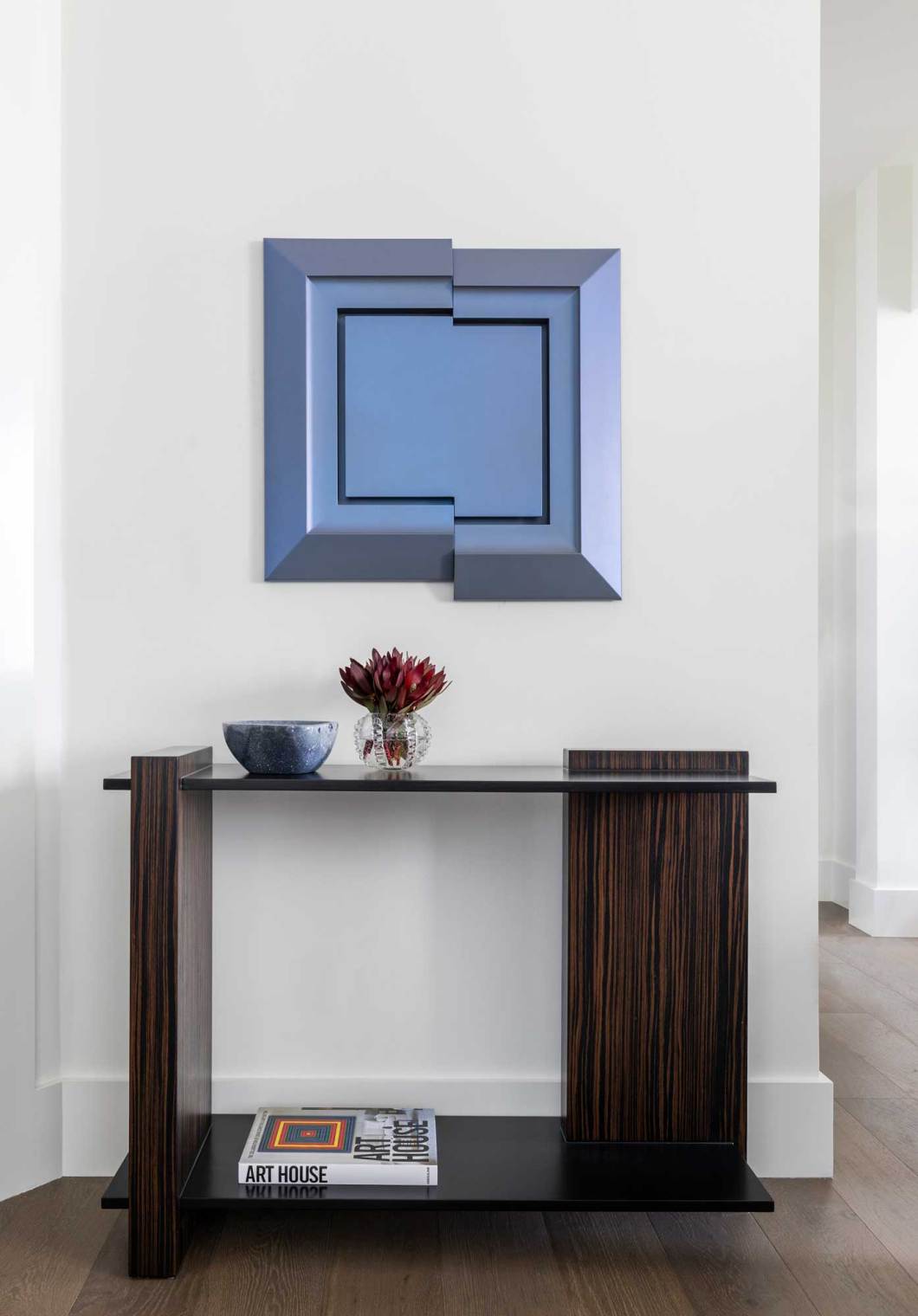 Image courtesy of Julie Soefer
We hope that everyone had a relaxing and safe summer. At C2, we are looking forward to the fall and exciting events happening in the art world, including our own in collaboration with Houston's beloved decor destination Upper Kirby Consignment (see below for details)!
In this month's newsletter, we are delighted to share an interview with Austin-based artist Erin Curtis. Our artist interview series highlights the work of female artists whose work we admire and look forward to following in the years ahead. We also highlight Olga de Amaral's exceptional exhibition at the Museum of Fine Arts, Houston.
– C2 Art Advisors
---
Catching Up with Erin Curtis
Erin Curtis is an Austin-based artist whose oeuvre spans paintings, and works on paper, and site-specific installations. Curtis received her BA from Williams College and her MFA from the University of Texas at Austin. In 2008-2009, Curtis was a Fulbright Scholar in Rajasthan, India and later attended the Skowhegan School of Painting and Sculpture in Maine.
| | |
| --- | --- |
| Painting in a Bottle, 2021, Image courtesy of Conduit Gallery | Cloud Massage, 2021, Image courtesy of Conduit Gallery |
C2: We are fascinated by your hand-cut and layered canvases. What is your process for creating these works?
EC: My process begins with an unstretched canvas, usually hanging on the wall. I work with acrylic paints and most of the painting is completed this way in a pretty traditional way- until I flip the canvas around, draw a pattern on the back and cut it out with an x-acto knife. This turns the painting into a kind of canvas screen, that will be applied to a second, stretched canvas. From a distance the eye will see a singular image but upon closer look the separate layers can reveal themselves.
C2: Your works are marked by highly intricate, colorful, and mesmerizing patterns. Where do you draw inspiration for your patterns, colors, and images?
EC: I draw a lot of inspiration from handmade textiles – often created by women for the warmth and comfort and beauty of their own family and homes. I like to think that my work is continuing a language of abstraction created with thread and needles, inspired by love and necessity. My color palette can take cues from a lot of sources- I have photographs torn out of magazines and pinned up on my studio wall that can direct a new painting. This past spring at my exhibition, Feeling Like An Abstraction, at Conduit Gallery, I was able to incorporate a mini-installation that included some press on acrylic nail sets with lots of color fades, iridescent topcoats and neon pinks- those nails are amazing and truly an inspiration.

C2: Backyard (pictured above) is particularly impressive in its scale, composition, and the amount of hand-cut canvas. How did this work come about?
EC: Backyard was painted in large part in the spring of 2020. It was a relief to be able to be in the studio (away from the news) and thinking about an escape to nature. I wanted to create a painting that felt intimate – like a backyard can – but also full of life and a little bit wild and overgrown and unknown.

C2: Your paintings are very complex and clearly the result of intensive labor, but you have mentioned that chance also plays a role in your artistic process. Could you tell us more about that?
EC: I like for all my paintings to have moments in them that happen quickly and often by chance – as well as more meditative moments where you can see the time marked by each brush stroke. The cutting process is always done from the back of the canvas – I know what is on the other side, but it is not until the pattern is drawn freehand and the cuts are made that I turn the canvas around- which is always exciting. I also try to allow for areas where the nature of the paint dictates what will happen- how it might pool or drip or combine with a different color.


C2: Are there any artists, past or current, who have profoundly influenced your work or who you greatly admire?
EC: I will always be a devotee of Joan Mitchell- she is the best. There's so much work of hers that I admire, but it's also amazing to see the arc and span of her career. I can only hope to be as lucky to work as long. At the moment I am really enjoying Sarah Crowner's work who shares a similar interest in patterning, cut canvas and installation, as well as admiring [Henri] Matisse's paper cutouts – a truly inspiring body of work made at the end of an amazing career.


C2: In addition to paintings and works on paper, you have created large-scale and immersive site-specific installations. When presented with a blank space, such as a series of windows or a large wall, where do you begin? Are there any recent installations that have challenged you to explore a different medium or do something completely new to your artistic practice?
EC: Site-specific commissions and installations have given me opportunities to approach artmaking in different ways that really stretch my practice and help me make better art. I love the chance to translate what I do with paint in the studio into a different material or a different scale. With site-specific work I think it is always most important to understand where that place is – who uses it and why do people love it. I always try to think about how art can make things better in the day-to-day experience for the people that will live with it, work with it, and see it on a daily basis.

I'm currently working on a really exciting commission project that is pushing me in new ways: designing elevator lobby spaces for a new 12-floor Women's and Children's Hospital in San Antonio. I'm designing for a different kind of audience – in some of the best and most challenging moments of their lives. The project involves envisioning a series of artworks that each remain unique, but also form part of a cohesive whole.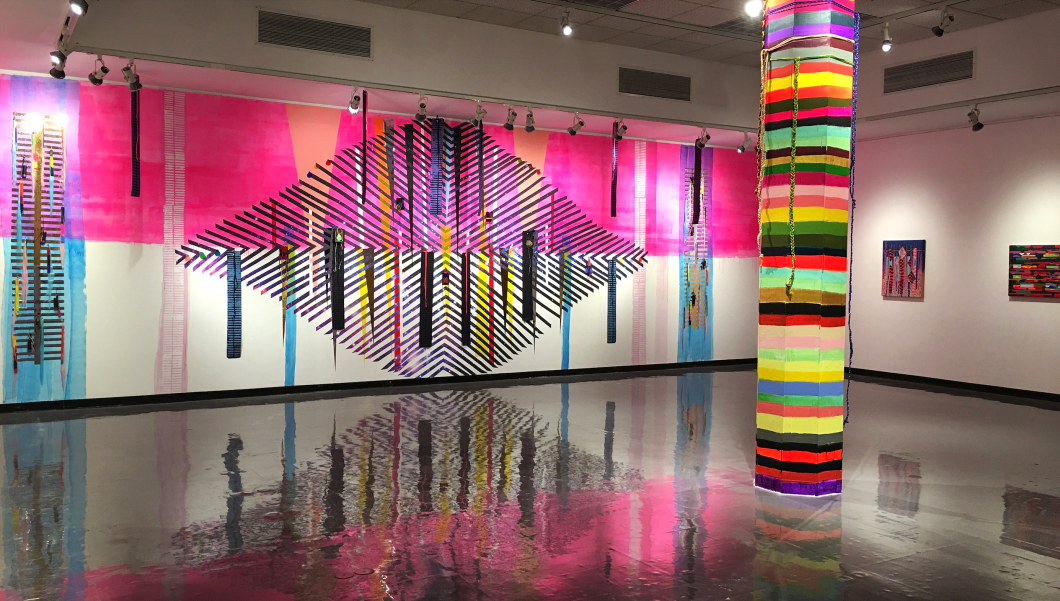 We are grateful to Conduit Gallery for their help in facilitating this interview.


C2 LOVES ♥
This summer, C2 had the pleasure of visiting Olga de Amaral: To Weave a Rock at the Museum of Fine Arts, Houston. This stunning exhibition explores the prolific, six-decade career of Colombian artist Olga de Amaral (b. 1932), who has pushed the boundaries of the fiber arts and pioneered her own visual language. She is also one of the most important voices in Post-War Latin American abstraction. The exhibition presents works that are both intimate and intricate, large-scale and immersive, prompting the viewer to not only look closely at each individual weave but also to look up and walk around the works. The artist incorporates unconventional materials such as wool, horsehair, plastic and gold leaf.
Olga de Amaral: To Weave a Rock is on view at the Museum of Fine Arts, Houston through Sunday, September 19th.