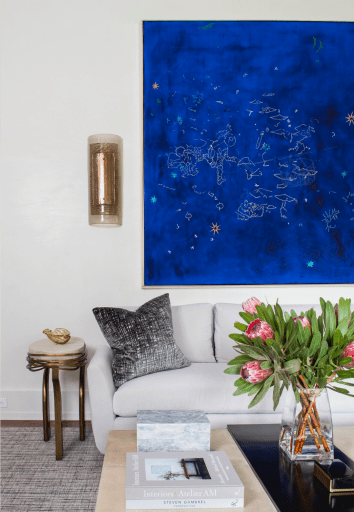 Happy Spring!
We hope that everyone has had a healthy start to 2021. What with the extreme weather in Texas this winter, we are excited to see flowers blooming and temperatures warming. Here at C2 we have been keeping busy with projects, installations and exhibition visits in Houston and Dallas, some of which we highlight below. In this month's newsletter, we are pleased to share an interview with Houston-based painter Sarah Lamb.
We are hopeful as more art world exhibitions and events begin to safely reopen, and we look forward to seeing you out and about soon!
– C2 Art Advisors

Catching Up with Sarah Lamb
| | |
| --- | --- |
| Diana's Flowers, Sarah Lamb | Detail of Peaches in a Silver Bowl, Sarah Lamb |
C2: What initially drew you to still life painting?
SL: I can't say exactly what drew me to still life painting other than portraits are very hard! I leave that up to my husband (painter David Larned). Whenever we go into a museum together, he heads for the portrait gallery and I go straight for the still life section. I love the simplicity and beauty of everyday objects.
C2: In your opinion, what elements make for a good still life composition?
SL: I think a good still life is all about balance. You want your eye to flow all over the painting, but you want a focal point… a point of interest that draws you in. Sometimes, when I start a still life with a focal point in mind, it will change throughout the painting and my attention will go to a different part. Like when painting flowers, my interest is initially on getting the flower blossoms just right… but in the end, the leaves on the table might be the most interesting part.
C2: Your still life paintings recall previous generations of artists, such as the Dutch Golden Age painters. Who has influenced you the most?

SL: So many wonderful painters have influenced me over the years. Andrew Wyeth was my first real inspiration. My interest has morphed over the years from John Singer Sargent and Chardin to Emil Carlsen and Wayne Thiebaud.
C2: Your still life paintings contain such an interesting range of curiosities, flowers and edible delights. How do you source these objects, and have some been collected by you over time? Tell us about your process of arranging these beautiful tableaux.

SL: Farmers markets and grocery stores, believe it or not, are a great source of inspiration! I love to paint flowers and fruit with the leaves still attached. When I lived in France, the outdoor markets were filled with everything I wanted to paint!
C2: What inspired your weathervane series?

SL: Really good friends of ours in Delaware have an absolutely incredible collection of antique weathervanes. I was drawn to their patina immediately. Their surfaces are aged to perfection. My favorite ones have copper verdigris and flecks of gold leaf. Every weathervane tells a story. I love the ones that are pinged with BB holes. Weathervanes were great target practice for little boys as they were usually perched atop barns and other farm buildings.
C2: What are your favorite landscapes to paint?

SL: I love landscape painting and feel that it is now a luxury. I used to take my easel wherever we traveled, and I especially loved to paint Italian and French landscapes. I feel like now we just travel and relax! I have recently gotten into Texas landscapes. This state has so many different and wonderful terrains. From the Guadalupe River to the beautiful Bluebonnet fields of the Hill Country- I hope to get out and paint it more often!
---
C2 Happenings
This month we visited a few of Houston's top galleries and had the opportunity to view some impressive exhibitions featuring a variety of mediums. A highlight was meeting Robert Hodge, a native of Houston and rising star in the contemporary art world, whose exhibition at David Shelton Gallery offers a rare glimpse into the artist's creative process and how he draws from his own "DNA," from family history to the work of music legends who inspire him, to create groundbreaking mixed media works.
| | |
| --- | --- |
| Paweł Dutkiewicz: Afterimage, Anya Tish Gallery | Photographs from Laurie Lambrecht's Roy Lichtenstein series (1990-91) at Foto Relevance |
| Robert Hodge: DNA, David Shelton Gallery, through May 1 (Photos courtesy of Swiggard Creative) | Robert Hodge: DNA, David Shelton Gallery, through May 1 (Photos courtesy of Swiggard Creative) |
---
C2 at Home
C2 sourced artwork by Mary Weatherford, among others, for the Viviano Viviano designed family room at the inaugural Kips Bay Decorator Show House in Dallas
(Photo courtesy of Stephen Karlisch)

C2 sourced Sebastian Black's Pink Blink (2013) and Will Henry's Broken Rainbow (2018) for a Houston home designed by Chandos Interiors

C2 sourced Leonardo Drew's cast paper edition for a Dallas residence
C2 LOVES ♥
American Visionary: The Collection of Mrs. John L. Marion
On May 12, Sotheby's New York will auction a group of outstanding works from the collection of Mrs. John L. Marion, a Texas titan of philanthropy, ranching and art collecting. C2 had the pleasure of viewing these works, which represent some of the biggest names in post-war art, in situ at the renowned collector's Fort Worth home, which was designed by legendary architect I.M. Pei.