Langdon Graves, It Will Not Last The Night (detail), 2022
Catching Up with Langdon Graves
At C2, our ongoing effort is to highlight emerging female artists whose work we admire and look forward to following in the years ahead. We are delighted to share an interview with Virginia-born, New York-based artist Langdon Graves. Graves' work is surreal, steeped in mysticism, and explores how reality and belief are often intertwined. Recurring themes in her oeuvre include domesticity, family relationships, vanitas, memory, and the passing of time.


Graves received her BFA in Painting and Printmaking from Virginia Commonwealth University and an MFA from Parsons School of Design. She has held solo exhibitions in New York, Virginia, Florida, Arkansas and Massachusetts and has participated in group shows in the United States, Europe and Australia. The artist is adjunct faculty at Parsons and a Visiting Professor at Pratt Institute.

C2: Your works imbue domestic objects such as matches, telephones, and sticks of butter, with a sense of mystery, surrealist qualities, and a bit of memento mori. Could you tell us more about your imagery, and the images that are recurring within your oeuvre?
LG: Most of the work I've been making for the last seven or so years has stemmed from an examination of my relationship with my grandmother and the dynamics among women within a family, but it started with ghost stories. Several years ago, my grandmother suffered a heart attack and lost some short-term memory and her doctors recommended we encourage her to talk about her life to try and trigger some remembering, so I asked if she would retell some of her accounts of ghost sightings and other strange phenomena that I heard growing up. Revisiting these stories that intrigued and mystified me as a child revealed a somewhat different picture than before; in addition to some changed details, I began to see that the ghosts in the stories were connected to difficult and traumatic experiences from my grandmother's life, particularly around her relationship with her mother. I've never questioned the authenticity of her stories, but after spending some time researching ghost story tropes and how they originate and evolve, I've gleaned that they're often linked to guilt, resentment, damage and illness.
As a child, I would sit enrapt at my grandmother's dining room table while she filled my head with pictures of disembodied gloves moving on their own, an unseen presence on the stairs, strange phone calls, and everyday objects appearing and disappearing into thin air. These images burned into my brain and mixed with what I remembered from her house, as well as what I imagined about the house where she grew up. Reflecting on this, I began thinking of the objects and environments we live with as haunted, in a way - not necessarily by restless spirits but by the significant and sometimes painful things we experience in our lifetimes and pass on to other generations. The palettes I work with are inspired my grandparents' bathroom tile or the color of their couch or a pair of heels my grandmother wore. A stick of butter was a staple on their dining room table, where I was nourished but also sat in audience (butter has also historically played an interesting role in mourning practices from funeral cakes to ancient Egyptian embalming). The vanitas and especially memento mori painting traditions give us rich, tantalizing still life scenes but they also possess a hidden, darker layer that reminds us of the ticking clock and the fleeting nature of our experiences, and perhaps of our beliefs about an afterlife. I'm borrowing from these traditions to tell some of my family's stories and hope they offer something shared and relatable for others.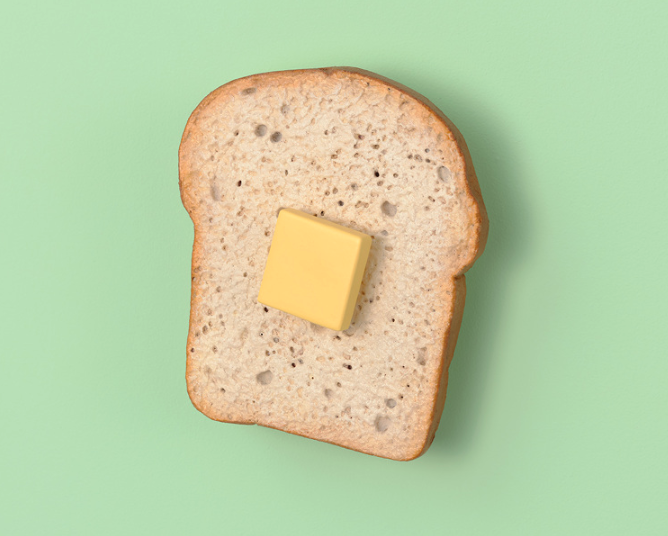 Eat Of Bread the World Knows Not Of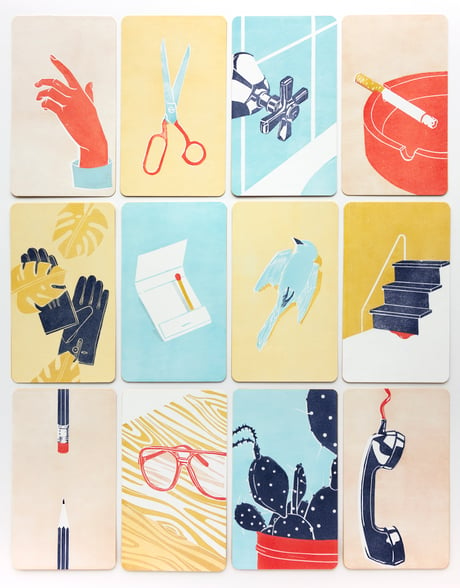 C2: Your Home Circle decks have become an important part of your body of work. Could
you tell us more about what inspired this series, and the history behind these cards?
LG: I'm so glad you asked about these! They have an interesting relationship to the rest of my work in that they pull from the imagery (although sometimes it goes the other way) but focus on
the storytelling. What I enjoy most about about my creative process is sharing the ideas that go into the work with others and striking connections through conversation. I wanted to develop an interactive feature that would take
the work off the wall or pedestal and open it up
to continual growth, perhaps through collaboration. I have a printmaking background and figured the immediacy of relief prints would allow for some easy play with compositions and color. My work is typically very labor intensive and the aesthetic is clean and precise, which I wanted to let go of for these. I came up with the idea to make an oracle deck that would function like Tarot or other forms of cartomancy and chose eight symbols from across my work, each corresponding to some aspect of my grandmother's stories or parts of her home. On the surface the cards feature familiar, domestic scenery in vibrant colors, but beneath this - like the vanitas - is a coded and more complex layer. In my research into Victorian-era (as well as modern) Spiritualism, I learned of a practice called Home Circles; spiritual gatherings involving séance that took place in homes rather than official places of worship, to create a safe space for community. Meeting at home also meant women were freer to perform religious leadership and share ideas that may not have been socially acceptable or even legal in the late 18th and early 19th century. To launch the first edition of nine decks, I gave readings at an art fair and quickly learned how delicately and respectfully I needed to approach an oracle reading. While I'd invented the deck, the relationship of a card reader - a fortune teller, of sorts - and querent requires trust, regardless of the level of belief a person does or doesn't bring to such a practice. Over time, I've grown more comfortable reading the deck and engaging participants in story sharing, not just one-way telling. I've added a card to the deck each year (there are now twelve) as well as special cards that only appear in certain decks, and I've introduced new palettes inspired by personal experiences. The Home Circle project is a way to honor my grandmother's spirit and keep her stories around, as well as hear others tell their family stories.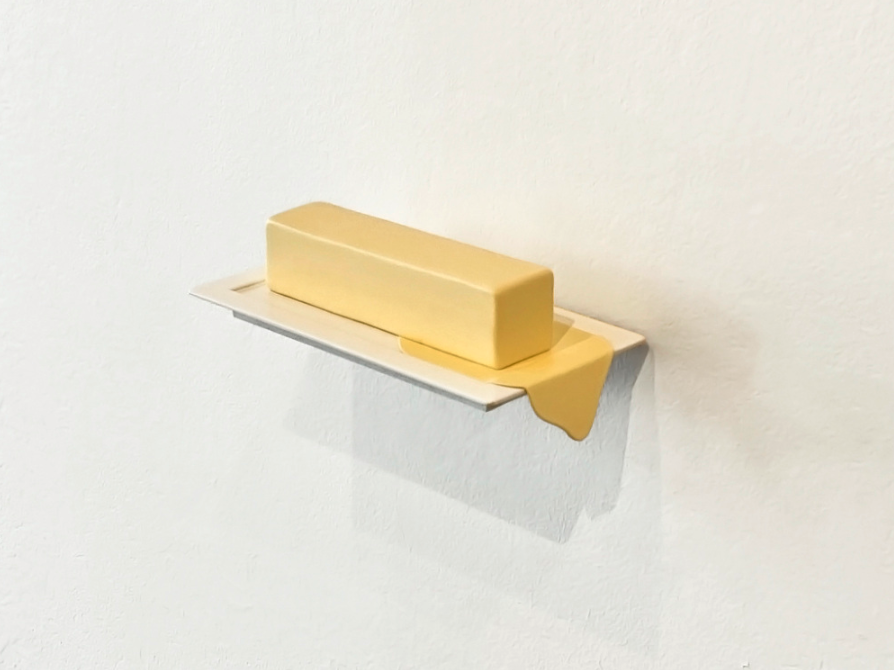 First Fig
C2: Tell us more about your sculpture practice and process.
LG: My sculptural practice has evolved over many years to become a complement to my drawings, aesthetically and technically. I've always enjoyed working three-dimensionally and it's a real change of pace from how I make my drawings, which are tight and slow and nearly surgical. My approach to sculpture is less planned from start to finish and I'm always problem-solving. If I'm more focused on sculpture for a period of time, my drawings will respond and pick up some of their qualities (or vice-versa), like color or stylization. I've been working a lot lately with polymer and epoxy clays and wood after committing early on in the pandemic to only materials and processes I didn't have to outsource. It's nice to have complete control over the time and production and sometimes limits open up new creative possibilities. I also made the decision to work with as few toxic materials as possible after too many years of exposure to spray paint and solvents, which is always getting easier.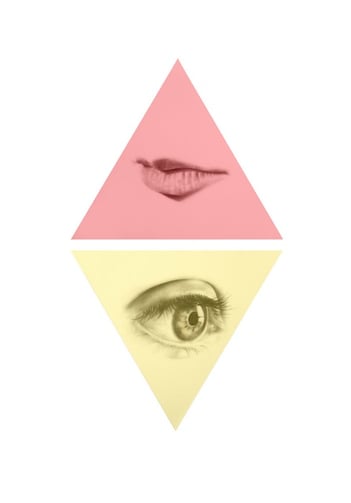 C2:
You create art, but you also teach. How has your artistic practice informed your teaching methods, or vice versa?
LG: Teaching is such an important part of my life and career
as an artist, especially in [New York City]. There's
no handbook for a sure-fire route to a successful fine art practice so I think we need good role models we can trust who'll let us learn from their experiences and help guide us
into our own. Teaching art is so much more than introducing skills or techniques; I try to encourage experimentation,
reduce fear of failure, and foster a sense of trust in community, which become more and more important (or has for me) as
we grow further into our careers. And these are all things I need to be reminded of, myself; I have as much to gain as an educator as I have to contribute.
Right: Day Shapes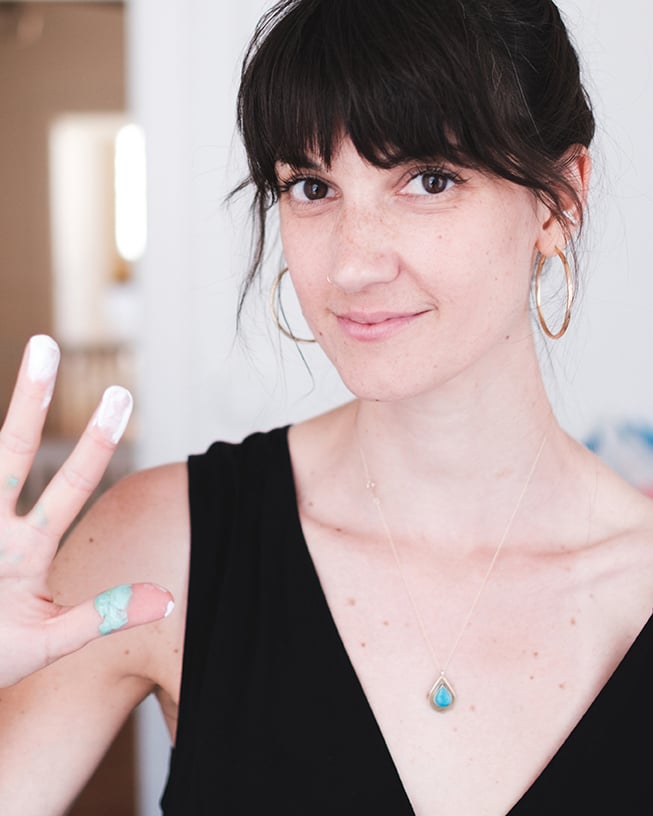 C2: Who or what are some of your current artistic influences, be it current artists or artists from the past, or other media?
LG: I think I tend to be influenced more by art outside the visual realm, especially music and writing. I recently read Braiding Sweetgrass by Robin Wall Kimmerer and have been haunted in good ways by many passages, particularly her thoughts on a gift economy. She shares a story from her youth about a belief that 'gift' was synonymous with 'handmade', something that strikes me as a should-be truth. I'm also currently reading beautiful things by Rebecca Solnit, Legacy Russell, Ocean Vuong and am always reading (or listening to) Clarissa Pinkola Estes. I've also been admiring the work of Jane Graverol, Marguerite Humeau, Christine Rebuhn, Claudia Martinez Garay, Devra Fox, and Butt Johnson's thoughtful, drawing-centered Instagram account.
I was in Italy for a couple weeks over the summer and while I was glad to finally stand beneath the ceiling of the Sistine Chapel, I found myself more taken by the umbrella pines in Rome, the Contrade symbolism in Siena (I just missed the Palio) and the acres of olive and cypress trees I was lucky to roam through while staying in Tuscany. Coming across a cemetery among the orchards, on a sunlit hill with no other (living) humans as far as I could see, moved me as deeply as any museum's masterpieces.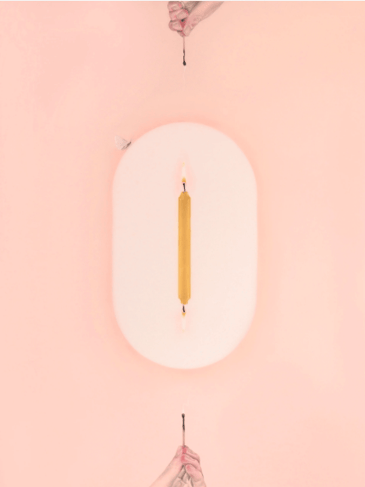 It Will Not Last The Night, 2022